At my Place
Reading
I don't want to Work today...
Friday, September 29, 2006

Have this really strong urge to stand up and yell...I DON'T WANT TO WORK TODAY!!

No prizes for guessing, I am not in a mood to work today and I have no valid reason whatsoever. We all have some good days and some bad days and some days that are neither, probably like the one I am experiencing today.. where you get up in the morning and feel sooo lazy and just cant be bothered with anything.

Venu did suggest that I should take the day off..which obviously I haven't as I don't have a valid reason for asking leave! What do I tell Fiona? "Hey, I am not coming in today as I am not in a mood to work!"-Yeah right! But when you think about it..IT IS a valid reason! Mood swings are not in my control and if my moods are hostile to work..not much I can do, is there?? Also what is the point in dragging myself here when I am not even a bit productive …. maybe companies should start granting leaves for an extremely "Productivity@work impacting" reason like this, wot say? Mujhe kaam karne ka mood nahi hai tho main kya karoon????

Anyone listening!!...I AM NOT IN A MOOD TO WORK TODAY!!


Reading – A huge round of applauds please.. At last done with "As the Crow Flies".

Song Playing – Beheta hai man kahin, kahaan jaante nahin, koyi rokle yahin..
Bhaage re mann kahin, aage re mann chala, jaane kidhar jaanu na.. from Chameli

Thought for today - Relationships
Came across the below lines.....we say this to ourselves many times "we hurt those we love the most"...but I loved the way it's been put across in these lines...

There's one sad truth in life I've found
While journeying east and west
The only folks we really wound
Are those we love the best
We flatter those we scarcely know
We please the fleeting guest
And deal full many a thoughtless blow
To those who love us best
- Ella Wheeler Wilcox
posted by All Smiles!! @ 10:33 AM

Which one are you??
Wednesday, September 27, 2006
posted by All Smiles!! @ 9:10 AM

Thought of the Day!!
Friday, September 22, 2006
Logic will get you from A to B. Imagination will take you everywhere...


Without leaps of imagination, or dreaming, we lose the excitement of possibilities. Dreaming, after all, is a form of planning.
posted by All Smiles!! @ 10:13 AM

A trip to remember..
Tuesday, September 19, 2006
We have been to the Whakapapa ski fields with Abha & Co. on Saturday and had a great time, the ski fields are on the northeasterly slopes of Mt Ruapehu. It is New Zealands biggest and busiest ski area. Like most areas in New Zealand, Whakapapa has treeless alpine conditions and the skifield itself is divided in two by an ancient remnant lava flow.
Below are some pics... Needless to say kids had a fantastic time..


A magnificent view of the snow clad mountains



Anu with Aman and Ishi



Anu on the snow board followed by Aman and Govind with Ishi

Surrounded by stunning volcanoes, bush clad mountains and a spectacular landscape lies the largest freshwater lake in the Southern Hemisphere, Lake Taupo.
The water is stunningly blue - the air fresh and unpolluted - the town bustling with cafes and the scenic delights greet visitors at every turn.


Abha(in white top) tried her best to look as tall as me.. hee hee

Just a short drive north of Taupo are the Huka Falls, New Zealand's most visited natural attraction. The thundering Huka Falls provide a fantastic photo opportunity - more than 220,000 litres of water tumbles over the cliff face per second! The falls occur when the Waikato River, after flowing over a comparatively wide bed, is abruptly confined for about 250 yards to a narrow rock-bound chasm less than 50 ft wide. At the lower end the whole discharge of the river is precipitated over a cliff 35 ft high into a deep circular basin. The name "Huka", meaning "foam", is appropriate and the falls look awesome.


All of us together
posted by All Smiles!! @ 12:53 PM

Happy Birthday to my Hubby dearest..
Thursday, September 14, 2006
Tumhe aur kya doon main dil ke siwaye,
tumko hamari umar lag jaaye...



May everything happy and everything bright
Be yours on your birthday
From morning till night and then through the year
May the same thing hold true
So that each day is filled with life's best things for you!
Have a Happy Birthday Chinnu..

I wake up every morning with a smile on my face because of you on my side. You make my world a better place, Love you loads and loads… Muuuaaahhhh..
posted by All Smiles!! @ 9:22 AM

Happiness!
Wednesday, September 13, 2006

Happiness is a conscious choice, not an automatic response.

Happiness grows at our own firesides, and is not to be picked in strangers' gardens.

Success is getting and achieving what you want. Happiness is wanting and being content with what you get."

Act happy, feel happy, be happy, without a reason in the world. Then you can love, and do what you will.

Until you make peace with who you are, you'll never be content with what you have.

Tis easy enough to be pleasant,
When life flows along like a song;
But the man worth while is the one who will smile
When everything goes dead wrong.

Even a happy life cannot be without a measure of darkness, and the word happy would lose its meaning if it were not balanced by sadness. It is far better to take things as they come along with patience and equanimity.

A happy person is not a person in a certain set of circumstances, but rather a person with a certain set of attitudes.

We tend to forget that happiness doesn't come as a result of getting something we don't have, but rather of recognizing and appreciating what we do have.

Happiness is not something you postpone for the future; it is something you design for the present.

Happiness does not come from doing easy work but from the afterglow of satisfaction that comes after the achievement of a difficult task that demanded our best.

You can complain because roses have thorns, or you can rejoice because thorns have roses.

Happiness adds and multiplies, as we divide it with others.

The greatest happiness of life is the conviction that we are loved - loved for ourselves, or rather, loved in spite of ourselves.

Happiness is good health and a bad memory.

Watch your manner of speech if you wish to develop a peaceful state of mind. Start each day by affirming peaceful, contented and happy attitudes and your days will tend to be pleasant and successful.

They say a person needs just three things to be truly happy in this world. Someone to love, something to do and something to hope for.

The best way for a person to have happy thoughts is to count his blessings and not his cash There is no goal better than this one: to know as you lie on your deathbed that you lived your true life, and you did whatever made you happy.

Being happy doesn't mean everything is perfect. It means you have decided to look beyond the imperfections.
posted by All Smiles!! @ 9:25 AM

This is how it all started -
Tuesday, September 12, 2006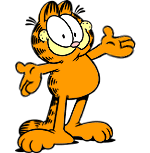 Can't wait for Garfield 2 (A Tail of Two Kitties) to hit the screens..

Thought to Ponder -The reason people find it so hard to be happy is that they always see the past better than it was, the present worse than it is, and the future less resolved than it will be.
posted by All Smiles!! @ 10:12 AM

Happy Birthday Abha!!
Sunday, September 10, 2006


Wishing you all the joy that you can wish for!!
Hope you have a fantabulous day and the year ahead has in store all that your heart desires!! HAPPY BIRTHDAY!!

God bless and Keep Smiling!!
posted by All Smiles!! @ 8:34 AM

Men and Women ...
Friday, September 08, 2006
"According to a recent survey, men say the first thing they notice about a woman is their eyes, and women say the first thing they notice about men is they're a bunch of liars"

"Woman begins by resisting a man's advances and ends up blocking his retreat."

"Women have a wonderful instinct about things. They can discover everything except the obvious."

"A woman has got to love a bad man once or twice in her life, to be thankful for a good one"

"Men always want to be a woman's first love - women like to be a mans last romance."

"A man's face is his autobiography. A woman's face is her work of fiction."

"Every woman is wrong until she cries, and then she is right, instantly"

"Women always worry about the things that men forget; men always worry about the things women remember"

"Women marry men hoping they will change. Men marry women hoping they will not. So each is inevitably disappointed."

"Most women have all other women as adversaries; most men have all other men as their allies"

"Woman's dearest delight is to wound Man's self-conceit, though Man's dearest delight is to gratify hers"


Thot of the Day!

posted by All Smiles!! @ 12:15 PM

The kid seems to have a point..
Thursday, September 07, 2006


Hee .. Hee.. Did you ever wonder??

Quote of the day .. and amazingly true !!!
The crisis of today is the joke of tomorrow.
posted by All Smiles!! @ 10:44 AM

Modern Day Prayer
Tuesday, September 05, 2006
God help me to consider people's feelings, even if most of them ARE hypersensitive.

God help me to take responsibility for my own actions, even though they're usually NOT my fault.

God, help me to not try to RUN everything. But, if You need some help, please feel free to ASK me!

Lord, help me to be more laid back, and help me to do it EXACTLY right.

God help me to take things more seriously, especially laughter, parties, and dancing.

God give me patience, and I mean right NOW!

Lord help me not be a perfectionist. (Did I spell that correctly?)

God, help me to finish everything I sta

God, help me to keep my mind on one th -- Look, a bird -- ing at a time.

God help me to do only what I can, and trust you for the rest. And would you mind putting that in writing?

Lord keep me open to others' ideas, WRONG though they may be.

Lord help me be less independent, but let me do it my way.

Lord help me follow established procedures today. On second thought, I'll settle for a few minutes.

Lord, help me slow down andnotrushthroughwhatIdo.

Amen.
posted by All Smiles!! @ 9:42 AM

Happy Father's Day!!
Sunday, September 03, 2006
To my dearest husband -



Anu wanted me to post this one for Venu-



God took the strength of a mountain,
The majesty of a tree,
The warmth of a summer sun,
The calm of a quiet sea,
The generous soul of nature,
The comforting arm of night,
The wisdom of the ages,
The power of the eagle's flight,
The joy of a morning in spring,
The faith of a mustard seed,
The patience of eternity,
The depth of a family need,
Then God combined these qualities,
When there was nothing more to add,
He knew His masterpiece was complete,
And so, He called it ... DAD!!

To my Dad and all Dad's out there,

posted by All Smiles!! @ 7:48 AM

Friday Giggles :)
Friday, September 01, 2006
Once Santa kept having the same weird dream every night, so he went to a doctor.
Doctor: What was your dream about?
Santa: I was being chased by a vampire!
Doctor: (giggles quietly) So... what is the scenery like?
Santa: I was running in a hallway.
Doctor: Then what happened?
Santa: Well that's the weird thing. In every single dream, the same thing happened. I always come to this door, but I can't open it. I keep pushing the door and pushing the door, but it wouldn't budge!
Doctor: Does the door have any letters on it?
Santa: Yes it did.
Doctor: And what did these letter spell?
Santa: It said, "Pull"

Santa enters a store that sells curtains.
He tells the salesman, "I would like to buy a pair of pink curtains."
The salesman assured him that they had a large selection of pink curtains. He showed him several patterns, but Santa seemed to be having a hard time choosing.
Finally, he selects a lovely pink floral print.
The salesman asked what size curtains he needed.
Santa replies, "Fifteen inches."
"Fifteen inches?" asked the salesman. "That sounds very small, what room are they for?"
Santa tells him that they aren't for a room; they are for his computer monitor.
The surprised salesman replies, "But, sir, computers do not have curtains!"
Santa says, "Hellllooooooooo........I've got Windows!"

Santa was visiting Chandigarh for the first time. He wanted to see the Rock Garden.
Unfortunately, he couldn't find it, so he asked a police officer for directions, "Excuse me, officer, how do I get to the Rock Garden?"
The officer replied, "Wait here at this bus stop for the number 46 bus. It'll take you right there."
He thanked the officer and the officer drove off. Three hours later the police officer returned to the same area and, sure enough, Santa is still waiting at the same bus stop.
The officer got out of his car and said, "Excuse me, but to get to the Rock Garden, I said to wait here for the number 46 bus. That was three hours ago. Why are you still waiting?"
Santa replied, "Don't worry, officer, it won't be long now. The 43rd bus just went by!"


Weather – Yay! It is the first day of spring and the day is looking quite promising being warmer and brighter than usual.

Mood – Elated, its Friday Yaaahhhooo… It is going be a GOOD day, I can feel it…

Book I'm currently Reading - Darkest Fear by Harlan Coben, for some reason I am not able to finish "As the crow flies" by Jeffery Archer.

Muzik Playing - Rang De Basanti (thodisi dhool meri dharti ki mere watan ki, thodisi Khushbuu baurai se mast pavan ki, la la la)
If you can listen to this one without moving your feet, you have got some serious rhythm issues.

Pearl of Wisdom - How far you go in life depends on your being tender with the young, compassionate with the aged, sympathetic with the striving and tolerant of the weak and strong, because someday in your life you will have been all of these.
posted by All Smiles!! @ 10:07 AM

About Me
Name: All Smiles!!
Home: Auckland, New Zealand
About Me: A typical Cancerian and a moderate friendly person with frequent mood swings (everyone close to me can vouch for that :))
See my complete profile
Previous Post
Archives
I Visit
Links